Match Report :
03/03/2004 v Valerenga
| | | |
| --- | --- | --- |
| Competition: | | UEFA Cup, Round 3, 2nd Leg |
| Season: | | 2003-04 |
| Venue: | | St James's Park |
| Attendance: | | 38,531 |
| Referee: | | Eric Braamhaar (Holland) |
Valerenga
Manager: Kjetil Rekdal
Oyvind Bolthof
David Brocken
Erik Hagen
Freddy Dos Santos
Kjetil Rekdal
( Runar Normann, 70)
Morten Berre
Tom Hovi
Jorgen Jalland
Ardian Gashi
David Hanssen
( Kjetil Waehler, 65)
Daniel Fredheim-Holm
Unused Subs: Magnus Hjulstad, Lars Bohinen, Lars Ovrebo, Espen Naess Lund
First Half
19 mins
1-0
Alan Shearer
.
A free-kick was awarded when a very observant linesman caught Bolthof drifting out of his penalty area with the ball in his hands. Shearer took the free-kick and somehow Bolthof allowed the ball to squirm under him to gift Newcastle the lead.
25 mins
1-1
Hagen
.
A corner delivered by player/coach Rekdal saw a completely unmarked Hagen convert with Bridges desparately trying to clear on the line.
Second Half
47 mins
2-1
Foluwashola Ameobi
.
Just 71 seconds after being introduced Ameobi took possession on the left. He cut inside Hagen and before Rekdal could get to him he struck a rather tame right-foot shot, which Bolthof should have easily saved, but inexplicably palmed it into his own net.
65 mins
Kjetil Waehler on for David Hanssen
70 mins
Runar Normann on for Kjetil Rekdal
89 mins
3-1
Foluwashola Ameobi
.
Jenas managed to spring the offside trap and squared the ball for Ameobi to finish comfortably with a low drive.
Times To Be Confirmed
toon1892 comment...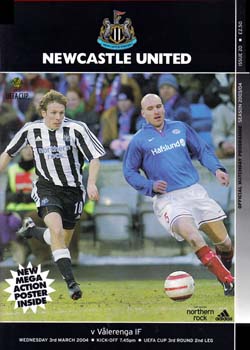 Newcastle win 4-2 on aggregate.
Notes
It was two really bizarre - and very "soft" goals which gave Newcastle the win, both mistakes coming from Valerenga's goalkeeper Oyvind Bolthof.
His straying outside the area with the ball in his hands was a "schoolboy error" that he should most definitely not be making - and his attempted save was equally as embarrassing as he allowed the ball to squirm under his body. Goodness knows what he was thinking of for Newcastle's second goal - the first of Ameobi's brace after being on the pitch for a total of 71 seconds - his shot was so tame that Bolthof had all the time in the world to safely gather it up, but instead palmed it into his own net.
Not a "good day at the office" for Bolthof!