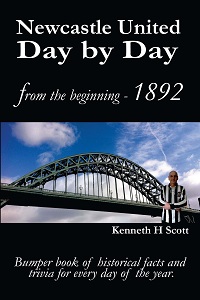 Paperback: 326 pages
Publisher: KayLynM Publishing
Language: English
ISBN-10: 0993420109
ISBN-13: 978-0993420108



Cover Image: by Matt Steel
Interior Sketches by PinkTeaVanity
Newcastle United Day by Day

Bumper book of historical facts, figures and trivia for every day of the year.

There is no doubt that Newcastle United have been involved in some absolutely brilliant games over the years. There's been the truly memorable games such as the thrilling 4-3 defeat to Liverpool that even though Newcastle lost, the game stays in the memory as an exceptional advert for football. The "Demolition Derby" 5-1 win over Sunderland and the 5-0 win over Manchester United and of course the two-legged final win over Ujpesti Dozsa to win the Inter-Cities Fairs Cup, unfortunately the last major trophy I have had the pleasure of seeing Newcastle win, six FA Cup victories, 2 Texaco Cup victories and victory in the Anglo-Italian Cup.

They have also had some fantastic players, Hughie Gallacher, Jackie Milburn, Bobby Mitchell, Len White, Colin Veitch, Alan Shearer, Kevin Keegan, Malcolm Macdonald, the list goes on and on. This book also remembers those who for whatever reason only appeared on a single occasion, their contribution is equally valued.

Presented in a diary, or almanac, fashion this book plots its way through the history of Newcastle United on a day-by-day basis and highlights interesting facts, figures and trivia.  It includes every debut by every player, every first meeting with every opposition team faced, each scoring debut and much, much more...