Match Report
26/04/1924 v. Aston Villa
| | | |
| --- | --- | --- |
| Competition: | | FA Cup, Final |
| Season: | | 1923-24 |
| Venue: | | Wembley Stadium |
| Attendance: | | 91,695 |
Aston Villa
Manager: George Ramsey

| | |
| --- | --- |
| | Tommy Jackson |
| | Tom Smart |
| | Tommy Mort |
| | Frank Moss |
| | Dr Victor Milne |
| | George Blackburn |
| | Dick York |
| | Billy Kirton |
| | Len Capewell |
| | Billy Walker |
| | Arthur Dorrell |
Second Half
82 mins
1-0
Neil Harris
.
An attack which involved the whole forward line saw a shot from Cowan being saved by Jackson but he couldn't hold the ball and it came back out to Harris who hit a low first-time volley beyond the now stranded Jackson.
85 mins
2-0
Stan Seymour
.
Cowan, bearing down on goal, could see no way through the Villa defence so he laid the ball off to Seymour who controlled it well and hit an absolute rocket of a shot that gave the keeper no chance.
toon1892 comment...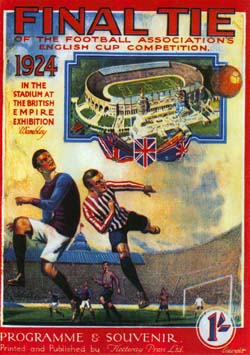 Great Victory For Newcastle!
In what was described as a highly entertaining game, full of skilfull football and competitive action, there was very little goalmouth action. Indeed both defences were more than happy to conceded throw-ins and adopt a "safety first" approach. However with the game looking likely to go into extra time Newcastle exploded into action with two goals in three of the last eight minutes to seal a great victory.
References
G.P.S., 1924, Newcastle's Great Cup Victory, The Sunday Pictorial, Sunday, 27/04/1924 [p18],
LMA, (ud), Manager Profiles : Aston Villa, League Managers Association, LMA, http://www.leaguemanagers.com/managers/?club_id=46208, [Accessed: 29/08/2016],