Match Report
29/05/1969 v. Ujpesti Dozsa
| | | |
| --- | --- | --- |
| Competition: | | Inter Cities Fairs Cup, Final, First Leg |
| Season: | | 1968-69 |
| Venue: | | St James's Park |
| Attendance: | | 59,234 |
| Referee: | | Joseph Hannet (Belgium) |
Ujpesti Dozsa
Manager: Lajos Baroti

| | |
| --- | --- |
| | Antal Szentmihalyi |
| | Beno Kaposzta |
| | Erno Solymosi |
| | Istvan Bankuti |
| | Erno Nosko |
| | Ede Dunai |
| | Laszlo Fazekas |
| | Janos Gorocs |
| | Ferenc Bene |
| | Antal Dunai |
| | Sandor Zambo |
toon1892 comment...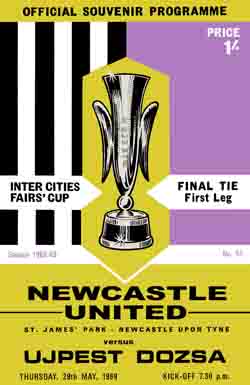 "One hand on the cup" says Jubilent Joe
First Half
In the first half Newcastle had Dozsa "
really rattled
" with their greater speed and stamina. Dozsa were only able to show odd glimpses of their undouted ball skills. However, as much superiority as they showed Newcastle, making good use of arial dominance of Wyn Davies and though they "
strained the Hungarian's defence
" they could not break it down.
Second Half
After the break Newcastle really pushed on ana made some very fast passing moves through the centre which had the Dozsa defence "
back-pedalling furiously
" on quite a few occassions. Moncur, who had done a sterling job in defence, started to get involved in the attacks more and more. Having not scored all through out the season he shattered the Hungarians with two goals in nine minutes. After that Dozsa were "
demoralised
" an did not offer much in return. Scott sealed the win with a third goal seven minutes from time.
Notes
In a tragic epilogue to the match it was revealed by Northumberland Police that a man had collapsed and died during the game and that a girl had to be taken to hospital for treatment after fainting.
References
Anon, 1969, Newcastle's splendid win, The Times, Friday, May 30, 1969 [p7].,
Summerbell, C., 1969, Fairs Cup in Newcastle's Grasp Now, Daily Mirror, Friday, May 30, 1969 [p31].,